Architectural Design Competition for the rehabilitation of a palazzo into a homeless shelter for the elderly and the disabled
SC>2020.1
SPECIALISED HOUSING
PROFESSIONAL SINGLE PHASE OPEN COMPETITION
79, St John Street, Valletta
Winner
XYZ Architecture & Design
Cost Estimate
€334,137.00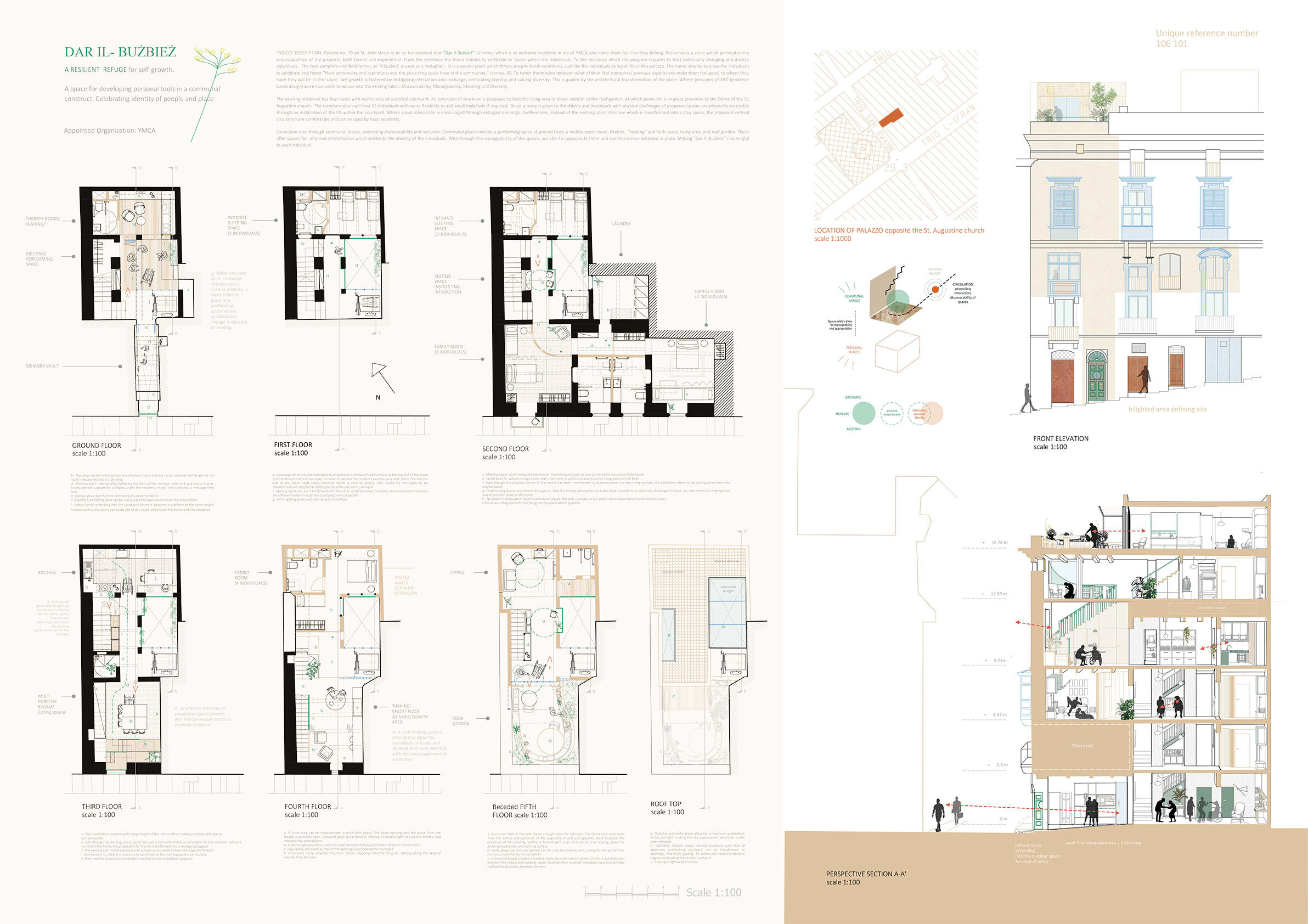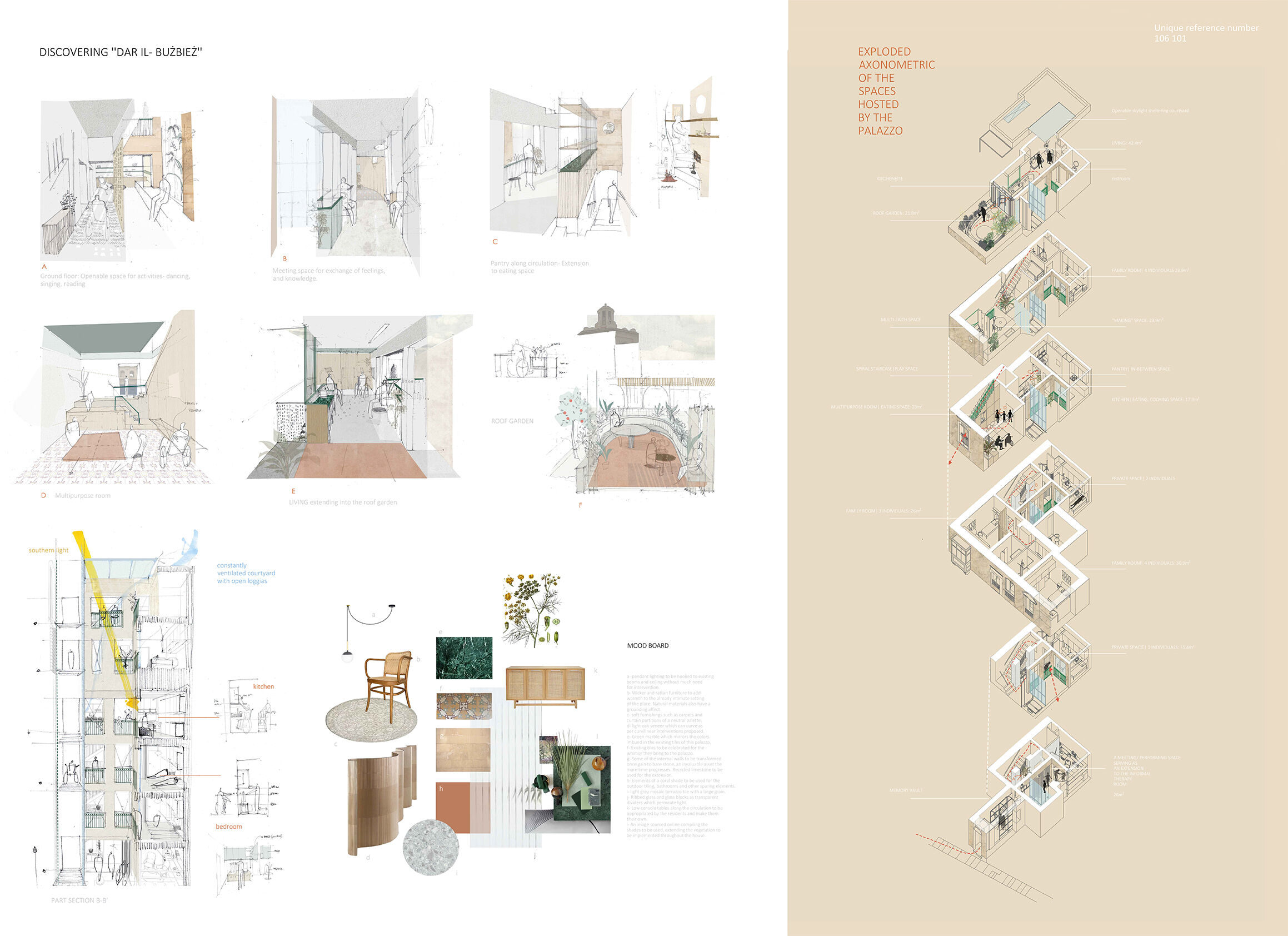 Jury Feedback
The design is very elaborate and sensitive to the needs of the users. Its resilient design promotes human flourishing through interaction and exchange via function, creative spaces and inclusivity. The connection to the outside via openings of different floors and how rooms are surrounded around the courtyard bring out warmth and a homely atmosphere.  The design takes into consideration accessibility and mental health through its design solutions and in the maximisation of creativity of certain nooks and crooks of the house (e.g. the proposed loggias and the playful shelves at the garigor). It is exactly this which YMCA sought in order to address the needs of homeless families, ageing and disability.
Cost Estimate
€349,969.68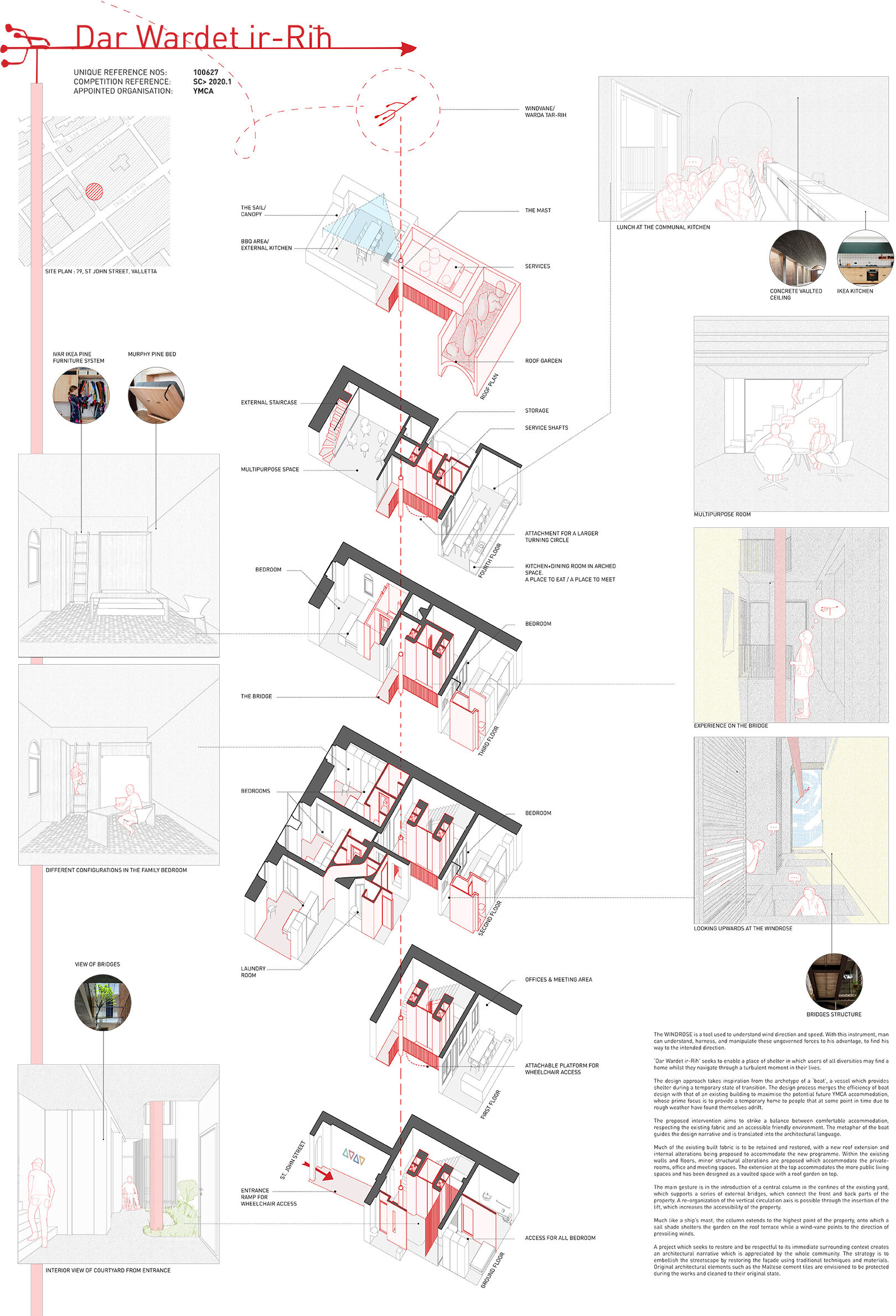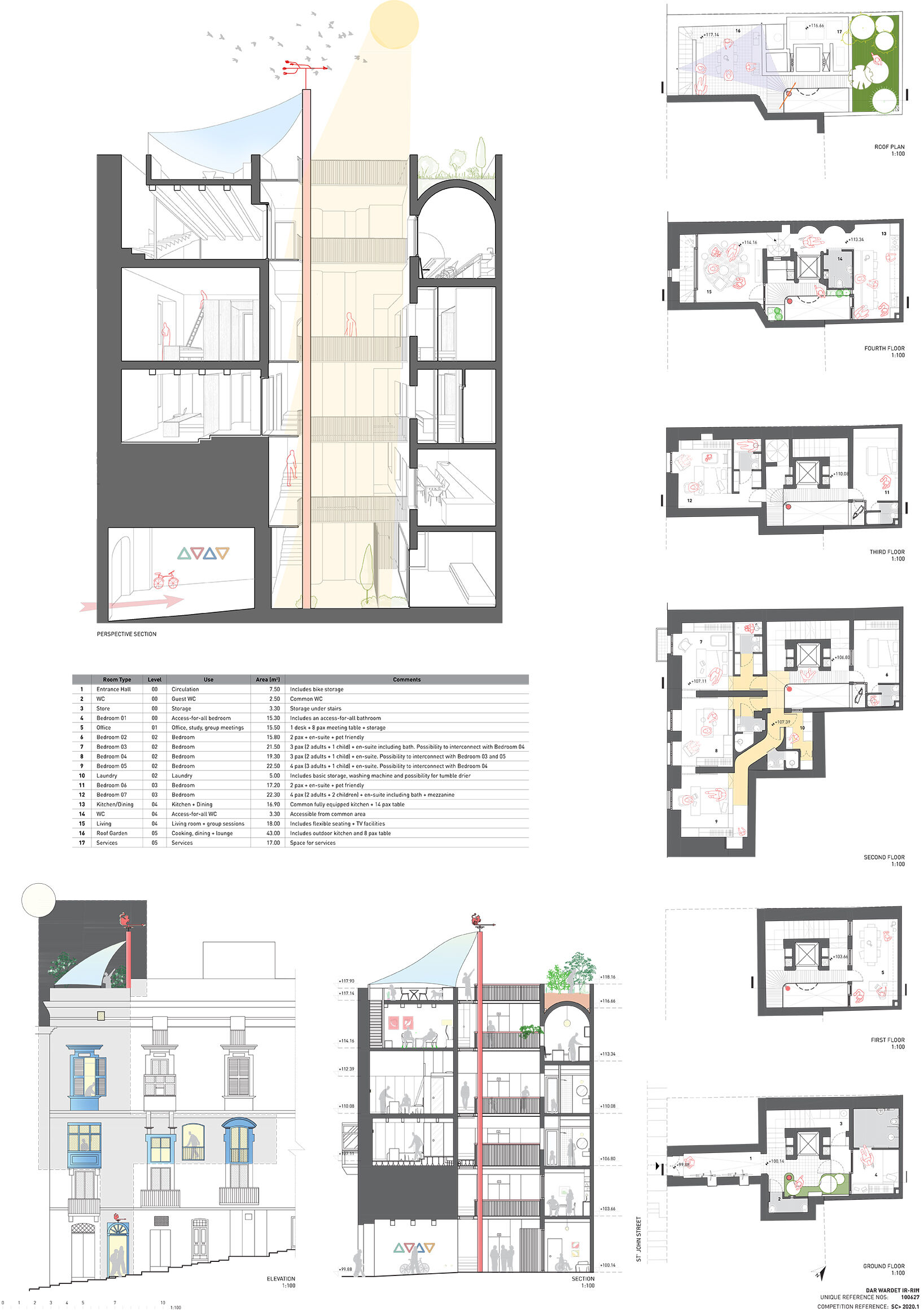 Jury Feedback
This aesthetic of this design is distinct and innovative. It is the only entry which makes a direct connection to the sea and this needs to be given merit. Considering that we are an island, the sea tends to be treated more as a backdrop. Flexibility also featured strongly and the bedroom configuration was ideal and all had private bathrooms. The use of the roof level is inviting, however, the staircase between third and fourth floor could be problematic. The external shading and installation of a real is a roof garden positive measure. The wide courtyard does improve internal air conditions. Through the structural intervention of the 'mast' the house becomes well-lit through natural light and enables horizontal connectivity through bridges.
Second Runner-up
Periti Mark Cauchi, James Dingli and Robert Pace
Cost Estimate
€345,000.00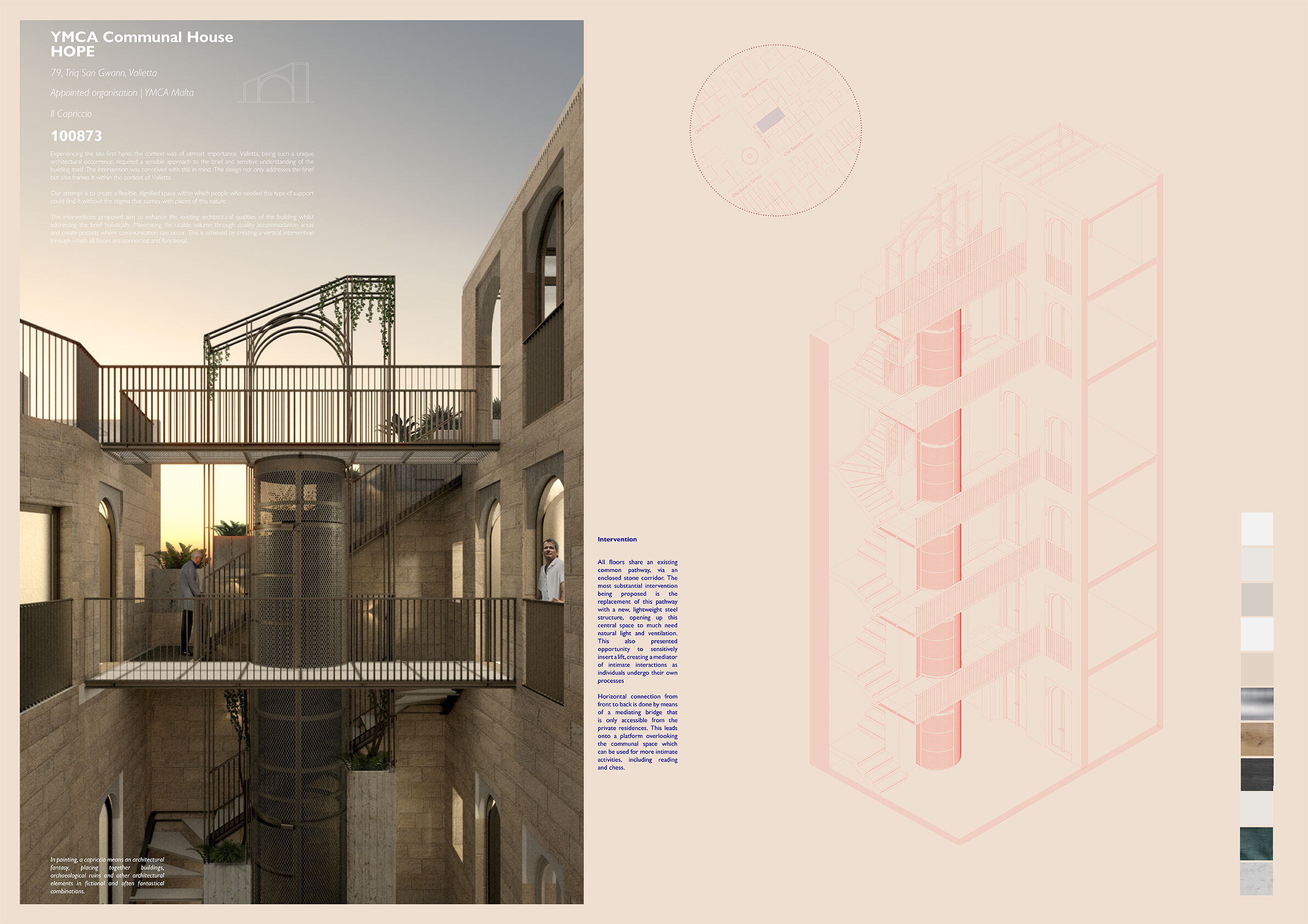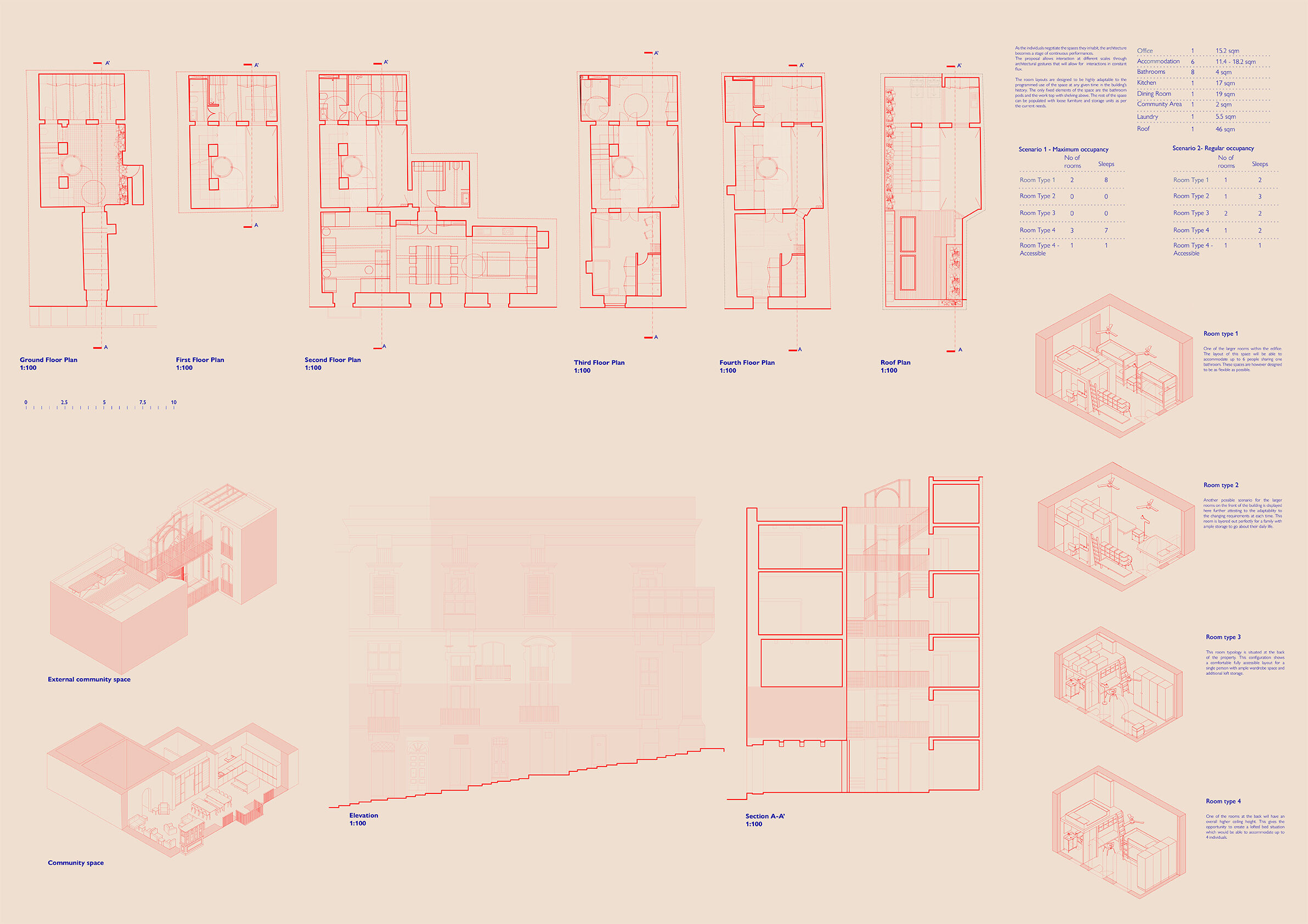 Jury Feedback
The concept is around resilient design. Flexibility is also inbuilt within the plan while promoting social dignity and support. It seems to be planned on a light study which is very welcome. Harmonising the façade through simple interventions and additional lightweight balcony is beautiful.
The connection through bridges is exceptionally brilliant and it enhances the flow and circulation of residents. Breaks the monotony of the building. There is a good balance between common areas and private spaces ‐ internal configurations of each room is very workable. The use of the lofted bedrooms is a good use of space and height. The roof is comfortable and connects the urban block with semi-public space of the communal terrace through gardening (and the shed)